Indy Cultural Tidbits: The Linear Parks of Green and Blue
Okay, it has been awhile since I've done one of these, but the timing was off the last few weeks and I didn't get a chance to crank one of these out.
Indy has little ribbons of crushed gravel or pavement that are surrounded by trees, bushes, and other greenery. Oftentimes, but not always, those ribbons are former abandoned railways that have been converted to trails for pedestrians, inline-skaters, and bicycles. The technical name for them is linear parks; the formal name is greenways. The past decades has seen an explosion in the creation and extension of
our greenways
. The most popular is the
Monon Trail
, especially around the Broad Ripple area. While neighboring property owners usually complain about a perceived lack of privacy and the possibility of crime, the greenways usually boost property values because the ribbons of land are no longer abandoned, people exercise and socialize on them, some stores arise to service the needs of the trail users, and art murals are often painted on neighboring buildings to enhance the trail. The original homeowners that complained may build a nice fence to alleviate their privacy concerns, but they usually make their own trailhead to have access to ribbon.
These trails offer unique views of areas that you wouldn't go to in a car. It is also an interesting way to connect people. Think about it, you have poor inner-city people, blue collar working class people, white collar people, and very well-to-do people all using the same trail, the same water fountains, the same benches. I'm not saying that you'll make lifelong friendships on the trails, but it is a good place to people watch. It is a good way to show that we may have different parts to the community, but we are
one
community.
These greenways are slowly interconnecting this community. Go to the west side of the IUPUI campus and hit the
White River Trail
. Follow the river north until 30th St or so and then connect to the gravel lined
Central Canal Towpath trail
. Listen to the peacefulness of the water and trees as you go northeast past the Museum of Art and the Bulter campus. Finally you hit the Monon and you have a choice, head south past the fairgrounds and end up on 10th Street on the eastern part of downtown or head north and eventually go past the county line into the town of Carmel. The last northern extension go to the outer edge of Carmel and recently it was announced they will try to extend the Monon to Westfield where it will hopefully connect with a proposed east-west trail following State Road 32. Even without those proposed extensions you've likely done a 16-17 mile bike ride from downtown Indy to the northern edge of Carmel with little drama. For a more northeasterly route that southern leg of the Monon connects with the newly extended Fall Creek trail just south of the Fairgrounds. I could get within a few miles of my home simply by riding my bike on trails. In our car-centric culture I find that amazing. Now if they added a few bikelanes on the roads it might be practical.
The eastern, western, and southern parts of the city are slowly getting their greenways. Perhaps in a decade you could walk, skate, or bike you're way from any one quadrant of the city to any other quadrant. There is
one downside
to these greenways though, they are mostly created from old railroad right of ways. Those same right of ways are also being proposed as part of the rapid transit system that I so love. I wonder if you could have both with perhaps a greenway on the land itself and an elevated people mover above it?
Though not connected to much, we have a blue ribbon park as well, the
Central Canal
. Take a big ditch that bankrupted the state in the early 19th Century, run it through a revitalized downtown and several downtown museums, and you have a pretty urban water landscape. The best thing about this is that it is only a block from school.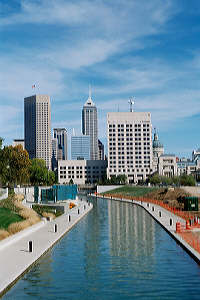 Though inspired by the San Antonio Riverwalk I fear it'll never reach that level of success due to our cooler weather. Yet more amenities are slowly adding to the canal. A few shops, some potential eateries, and with luck perhaps a nice bar or two in a few years. Right now it is mostly business, government center, and some nice homes along the canal. It is interesting to watch the slow rise to critical mass though. Rental bikes, rental paddle boats, even rental gondolas, with free music on certain days are evidence of the rising tide.
Well, if there were a tide on a canal ;-)